Source : TV Daily - Photo
DMZ DOCS Facebook - Video
DMZDocs2012 - Information
VisitKorea - Information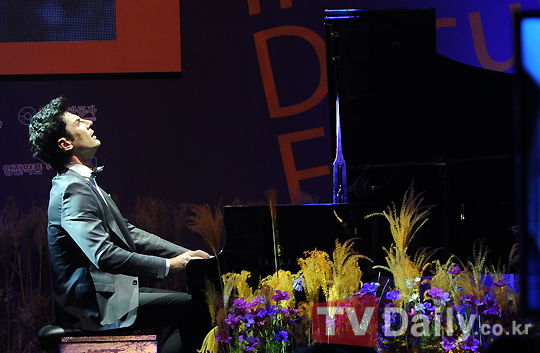 Photo : TV Daily 2012.09.21
Video : DMZ DOCS Facebook
Maksim performed at the Opening Ceremony of the 4th DMZ Korean International Documentary Film Festival.
邁可森在第四屆DMZ韓國國際紀錄片電影節開幕式上演出。
Information : DMZDocs2012

● Title : The 4th DMZ Korean International Documentary Festival(DMZ Docs 2012)
● Theme : Peace, life and communication of DMZ
● Date : 21st(fri) ~ 27th(thu), September, 2012
● Scale & Place :
· Scale: 115 films from 37countries
· Place: Paju Bookcity(Lotte Cinema-Paju Outlet, Megobox-Paju Bookcity)
● Host & Organization :
· Host: Gyeonggi province / Paju city / DMZ DOCS committee / MBC
· Gyeonggi Contents Agency / Gyeonggi Film Commission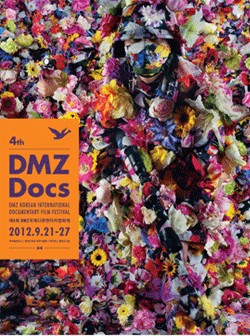 DMZ, Spreading the spirit into a blossoming flower!
Media artist Lee Yong-baek's〈Angel Soldier〉, reborn into the festival's official poster!
DMZ, 將欲傳遞的精神在時空裡延展開來幻化為一朵朵盛開的花!
媒體藝術家Lee Yong-baek的〈Angel Soldier〉重獲新生成為電影節的官方海報!
Fateful encounter of the DMZ and DOCUMENTARY
DMZ, which represents our state of armistice, is a place where we realize the true value of 'peace' and 'communication'. We sometimes tend to forget about these values. This is the reason for having this documentary festival in DMZ. Through the power of documentary, we will again realize the value of peace in the space of DMZ. DMZ Korean International Documentary Festival is where the space of possibility(DMZ) meets the film of possibility(Documentary). Through this encounter, you will be able to experience unlimited expansion of your values.

DMZ與紀錄片命中注定的偶遇
DMZ,代表我們停戰的狀態,是一個讓我們得以領悟'和平'和'溝通'真正價值的地方。有時候我們往往會忘記這些價值。這就是為何選在DMZ舉辦紀錄片電影節的原因。透過紀錄片的力量,我們將再次意識到DMZ的空間所代表的和平價值。DMZ韓國國際紀錄片電影節讓空間的可能性(DMZ)與電影的可能性(紀錄片)在此相遇。透過這場偶遇,你將有價值觀無限擴展的體驗。


Information : VisitKorea│ Official Korea Tourism Organization

Demilitarized Zone (DMZ) │ Peace and Life Zone (PLZ)
Korea is the only divided country in the world. After the Korean War (June 25 1950 – July 27 1953), South Korea and North Korea established a border that cut the Korean peninsula roughly in half. Stretching for 2km on either side of this border is the Demilitarized Zone (DMZ).
For over fifty years the areas surrounding the DMZ have been restricted to the general public. As a result, they have become a wildlife preserve containing incredible bio-diversity. The DMZ and its surrounding areas are now referred to as the Peace and Life Zone (PLZ).

非武裝軍備區(DMZ) │ 和平與生命的空間(PLZ)
韓國是現今世界上唯一分裂的國家。朝鮮戰爭之後(1950年6月25日 - 1953年7月27日),南韓與北韓相鄰的邊界(休戰線)將朝鮮半島大致上切割為半。在休戰線的兩側向外延伸2公里的範圍內就是非武裝軍備區(DMZ)。
50多年來,DMZ周圍一直都是出入管制區域。因此,這些地區已成為野生生物保護區且包含了驚人的生物多樣性。DMZ和它周圍的地區現在已蛻變轉化為象徵和平與生命的空間(PLZ)。
※ 中文翻譯僅供邁迷參考,請勿轉載或抄襲。
※ 本文為版主蒐集資料重新編排的版本,請勿轉載,欲了解原圖文或更多相關資訊請見
TV Daily、DMZ DOCS Facebook、DMZDocs2012、VisitKorea。
※ You can click on the link TV Daily, DMZ DOCS Facebook, DMZDocs2012
and VisitKorea for the original photo, video, and more information.